Story by Anna Rizzo-Tassone
Ray Apap (above left) and David Camilleri (right) are no strangers to creating sought-after real estate. From restoring award-winning mid-century houses in the Upper North Shore to renovating slick inner city apartments, they have an eye for potential and a passion for creating magnificent homes, all the while juggling demanding professional careers.
"Since we met, we've renovated almost a dozen properties to various degrees, but one of our biggest challenges was a beautiful home in Cheltenham, Sydney, called Hawkins Residence," says David from his current lounge room. Designed by Philip Cox in 1969, the house had been awarded the highest accolade by the Royal Australian Institute of Architects, but when purchased by Ray and David, was in desperate need of restoration. The split level, five-bedroom residence took around three years to renovate. "We loved that house and it was perfect for entertaining our family and friends," says Ray. "We thought that it would eventually be a great place to look after our elderly parents, but it didn't work out that way and we realised it no longer met our needs." When looking for their next home, one shared vision was tantamount. "It had to be perfect for each of us."
They'd always had a fondness for Breakfast Point, having previously purchased in the Camellia, Catalina and Hermitage Hill buildings, so after lengthy discussions with their Maltese families, the two agreed that Breakfast Point ticked all of their place-to-live boxes.
"Even when we were renovating the current property in [the] York [complex], we decided to rent in Maple so we'd be close to the work and lifestyle," says David. The area's diversity is another drawcard. "The area attracts all ages and all backgrounds and we really love that," notes Ray.
After 2020's pandemic challenges saw them work from home for much of the year, they took advantage of the many nearby conveniences. "We have some great quality local restaurants at our doorstep ready to deliver," says David. "The IGA [supermarket] is a stone's throw away. Cabarita Park is great for a walk and quick lunch at Sanders Kiosk, and we also enjoy our 4pm dog meetups at the Village Green where our beloved two-year-old [Tamaruke], Parker, gets to play with his buddies. We've also discovered some fine local businesses like The Antipasto Queen, which delivers free to Breakfast Point. We've been very impressed with their grazing platters," he adds.
Ray and David's three-bedroom, two-bathroom Hamptons-inspired apartment is nothing short of enchanting. Its coastal-meets-luxe feel is achieved with plush furnishings, light timber flooring and immaculate white carpentry throughout. Bathed in natural light and filled with nods to nautical themes throughout, it boasts an impressive white marble kitchen bench, which extends as a splashback and sits as a centrepiece to the open plan living area and dining room. Off that is an open courtyard, which is clearly Parker's playground, and also a place where Ray can view his beloved Blue Moon roses, planted at as a homage to his late mother.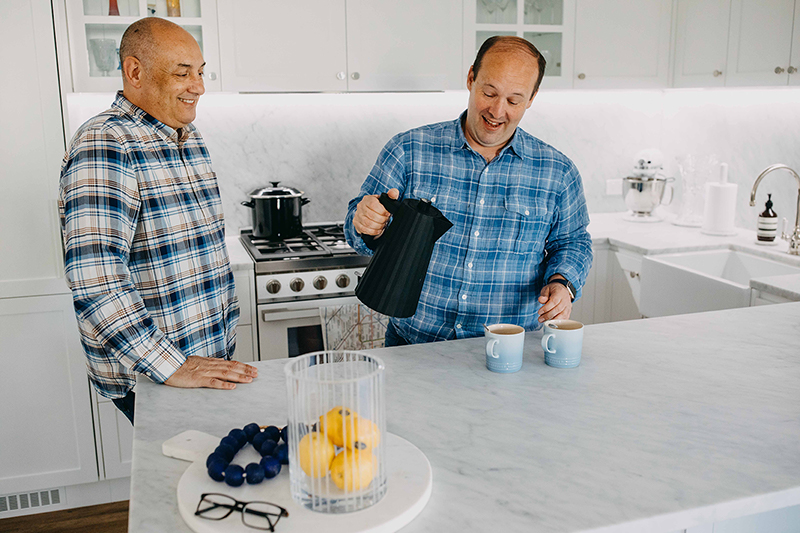 The main bedroom is dominated by a magnificent piece of wall art featuring a navy illustration of billowing clouds earmarked for them by a friend who was travelling through Paris. It's obvious no corner has been cut in this renovation, and their labour of love has produced a home they are both incredibly proud of. "We've always loved the feeling of taking something old and run down and giving it new life," says David.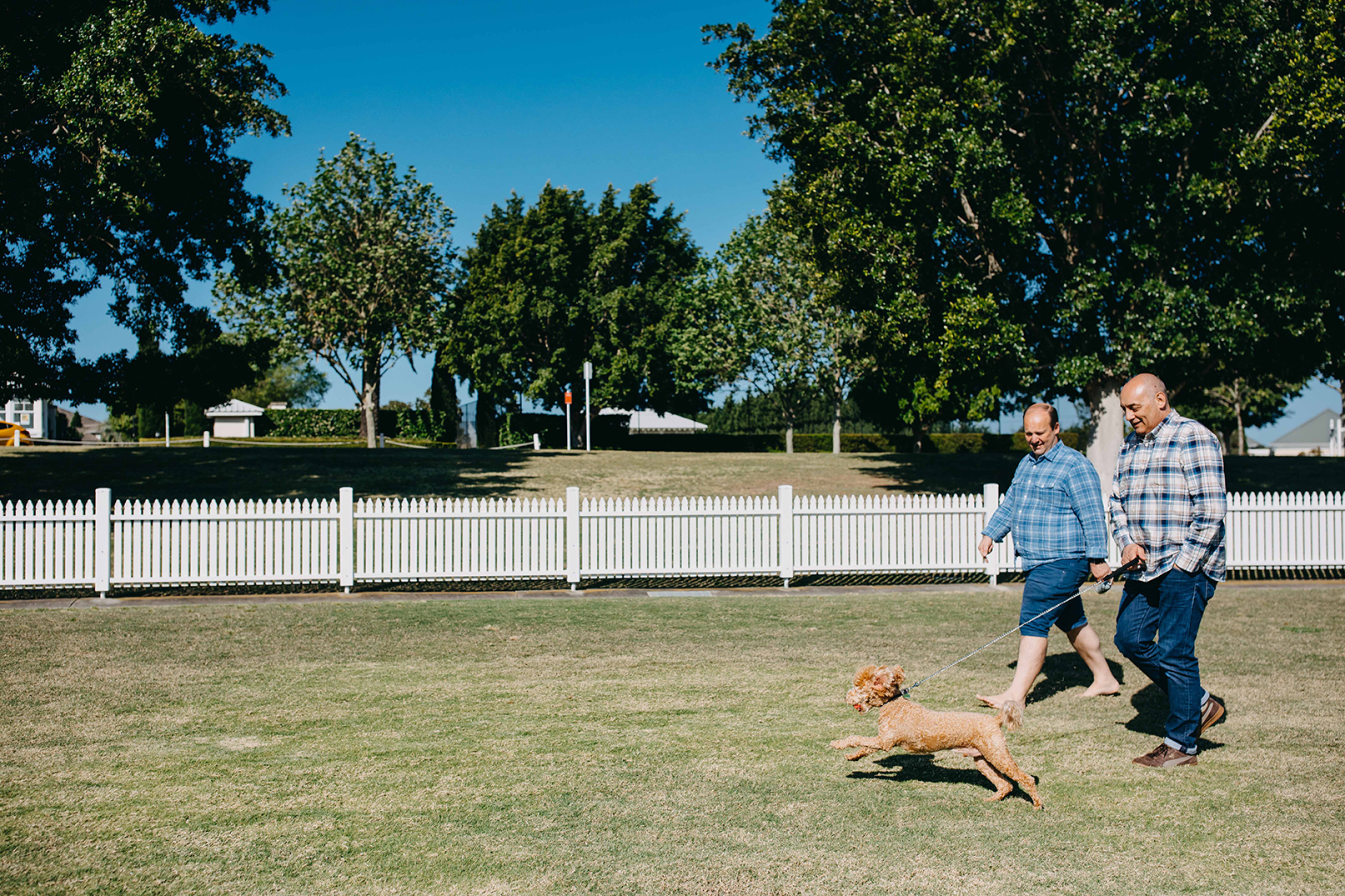 The same can be said for David's newest passion, a 26-foot 1960 Halvorson river boat named Karen, which they take out several times a month. Though he's never considered himself a boater, David challenged himself to restore the wooden vessel to her former glory. "Karen was built on the Parramatta River and I thought it befitting to give her new life again in the same place."