Powerful Tales, Intertwined
Separately, Sister Rosemary Crumlin OAM and Rebecca McCabe have fascinating life stories. Together, they're a formidable and fascinating double act. We met the close friends and former catholic sisters at their favourite Breakfast Point cafe to hear more.
There's no shortage of fascinating folks and brilliant life stories in our colourful Breakfast Point community, but few friendships are as unique as that of Sister Rosemary Crumlin, 89, and local resident, champion swimmer-turned-physiotherapist Rebecca McCabe, 54. Until several months ago, the dear friends of almost three decades – who met when Rebecca, attended a day facilitated by Rosemary at the Kairos Formation Program in Sydney – lived cities apart. But the latter's recent move from Melbourne to the inner west to live closer to her nieces and nephews means the pair can revel in one another's company again face to face.
While the two women have countless things in common, the obvious being that until two years ago – when Rebecca made the incredibly difficult decision to walk away from her life as a final professed nun – the pair were senior members of the Catholic Church, avowed to a life of chastity, poverty, and service. Both are warm and funny, hugely accomplished, open-minded and spirited – far from the stereotypical image popular culture has of stern sisters in habits.
Both shirked tradition whilst in the church system, too. Rosemary, who has an Order of Australia for service to the visual arts, was afforded rare permission to study fine art in England after being finally professed, has two honorary doctorates, curated multiple major art exhibitions, and was a lecturer at the Australian Art School, director of the National Pastoral Institute and a lecturer with the Australian Catholic University during her high-profile working career. Like Rebecca, she grew up in Sydney and gathered multiple letters after her name in the years that followed.
"When I first met Rosemary, she was wearing a modified nun's habit and purple boots. I knew straight away she would be someone who'd inspire me to think sideways."
"I was originally a Bondi girl," Rosemary notes of the years before she became a 'Bride of Christ' at age 18.  (She was the oldest in her group. The youngest was 16.) "I lived at the nunnery in Parramatta and started teaching art at [Our Lady of Mercy] catholic college when I was 21. The nun who taught art had died and they needed someone to step in quickly. They didn't consult me, I was just told. But they did end up letting me go to art school."
A passionate advocate of Australian Indigenous art, Rosemary spent considerable time during her later career travelling to remote communities. "Studying spirituality through aboriginal art changed my life," she adds, noting that one community art centre at Warmun in the Kimberley Region of Western Australia – which she discovered while researching an up-coming exhibition with her friends Jesuit priest and human rights lawyer, Frank Brennan AO, and Alcaston Gallery owner, Anthony Knight – was like Aladdin's cave, filled with visual and spiritual treasures.
While Rosemary clocked up many incredible achievements in her career, one exhibition she conceived and curated stands out as the pinnacle: Beyond Belief: Modern Art and the Religious Imagination, which ran from April to July in 1998 at National Gallery of Victoria. It featured a diverse range of twentieth century paintings sourced from public and private collections across the world, including the Tate Gallery (London), The Metropolitan (New York), and the Vatican Museum (Rome). When the new gallery director tried to put the kybosh on it just months before launch, insisting they were $350,000 short of the funding required, Rosemary raised the lot within the three-day deadline. A large chunk came from Dame Elizabeth Murdoch and her son Rupert, who were Rosemary's friends as a result of her teaching Rupert's second wife, Anna Torv, at school. Another dear friend, esteemed artist, humanitarian and 1995 Australian of the Year, Arthur Boyd AC OBE, threw his support behind the religion-themed show as well. By coincidence, Rosemary wrote to him many years prior to say how much she loved his then controversial, and now-famous, male and female crucifixion paintings, sparking a deep friendship that lasted until his death from cancer in Melbourne in 1999, age 78. "I loved Arthur," Rosemary confides. "Or I should say I do love. I truly love him. Artists, the good ones, are all about things that really matter."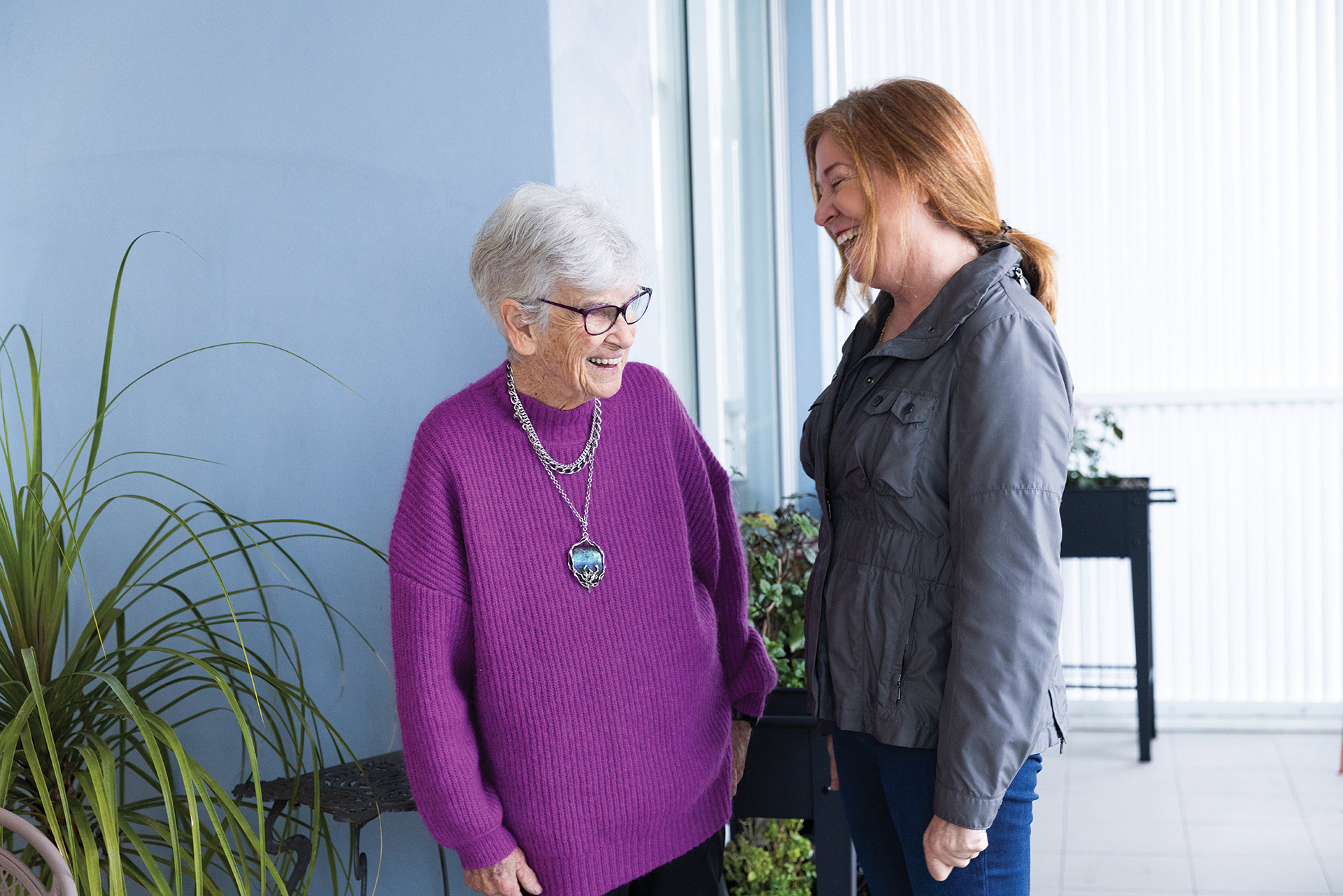 Like Rosemary, Rebecca's life to this point has been far from that of a stereotypical nun. Her childhood in Southern Sydney was filled with 4.30am swim training starts, before she qualified for the Los Angeles Olympics at the age of just 16. A shock shoulder injury dashed her chance of competing, and by the time she took her vows at age 26, she had a science degree and was working as a medical researcher at St Vincent's Hospital in Sydney. Like Rosemary, Rebecca was granted the unusual opportunity to study further – qualifications in physiotherapy here and overseas – after joining the sisterhood, and she worked in a mostly public-facing role. "I used to say that one of the great needs in our society is being injured and in pain without private health insurance, so I mostly gave my time to people who couldn't afford it, and the nuns fully endorsed that," Rebecca notes. Today, she runs her own physiotherapy practice in Strathfield specialising in pain management and is engaged in a research program focused on the psychological needs of people with severe spinal cord injury.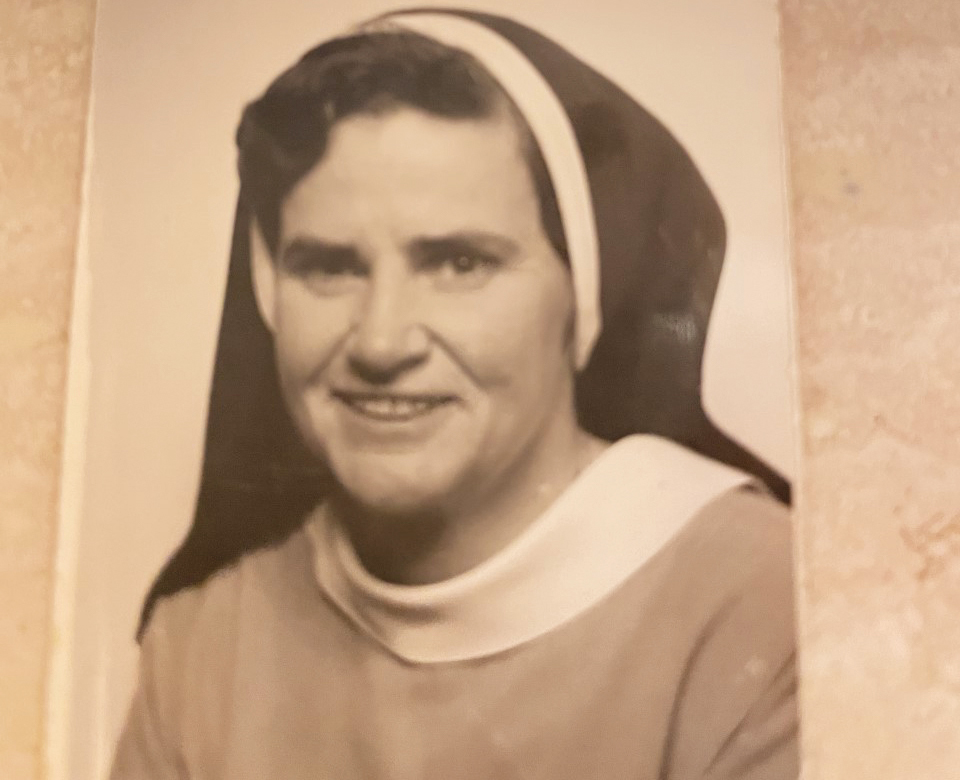 "When I couldn't go to the Olympics, the meaning fell out of my life, so I say I swapped one squad for the other: the Australian swimming squad for the sisters. Similar to Rosemary, I was idealistic, I wanted to offer my life to something good, and that's what I did."
"You get some sort of a veiled sense of the worthwhileness of a life that's completely dedicated to service," adds Rosemary, laughing at how her earlier recollections of 5.25am wakeups, having her hair cut short, wearing a habit and, at least in the early days, being banned from reading books or having 'particular friendships' with other nuns probably don't sound like fun. Today, the notion of not being allowed a 'particular friendship' with Rebecca seems worlds away. "She brings a richness," Rosemary explains. "She's a lot of fun and she's top of the tree as a physio – people queue to go to her – but I also admire the seriousness of her stance to life. She's got good clear vision and a strong moral compass."
"When I first met Rosemary all those years ago," replies Rebecca, "she was wearing a modified nun's habit and purple boots, and I knew straight away she would be someone who'd inspire me to think sideways. Her friendship has been an essential ingredient in my life. If it was not there, I'd be bereft. Life wouldn't be as magical and colourful and interesting. Rosemary is an example of someone who has lived a dedicated, truly full life."
Her support has also been invaluable over the years, never more so than when Rebecca decided to abandon life as a nun after 26 years with no home, savings or superannuation, thanks to her vow of poverty. "By the time I left the sisters, I'd already presented at world conferences, co-authored two books, and I had credibility as a physio, yet there I was at a start again," she says, noting the formal  resignation, which took several years planning, was the hardest thing she's ever done, but also led her to Breakfast Point. "I didn't know where I was going to live, then a family friend very generously offered me their investment property rent-free for the first year. That was two and a half years ago and I've been here ever since. I love the beauty of this place and it's a wonderful tight-knit community. It felt like I had an instant connection."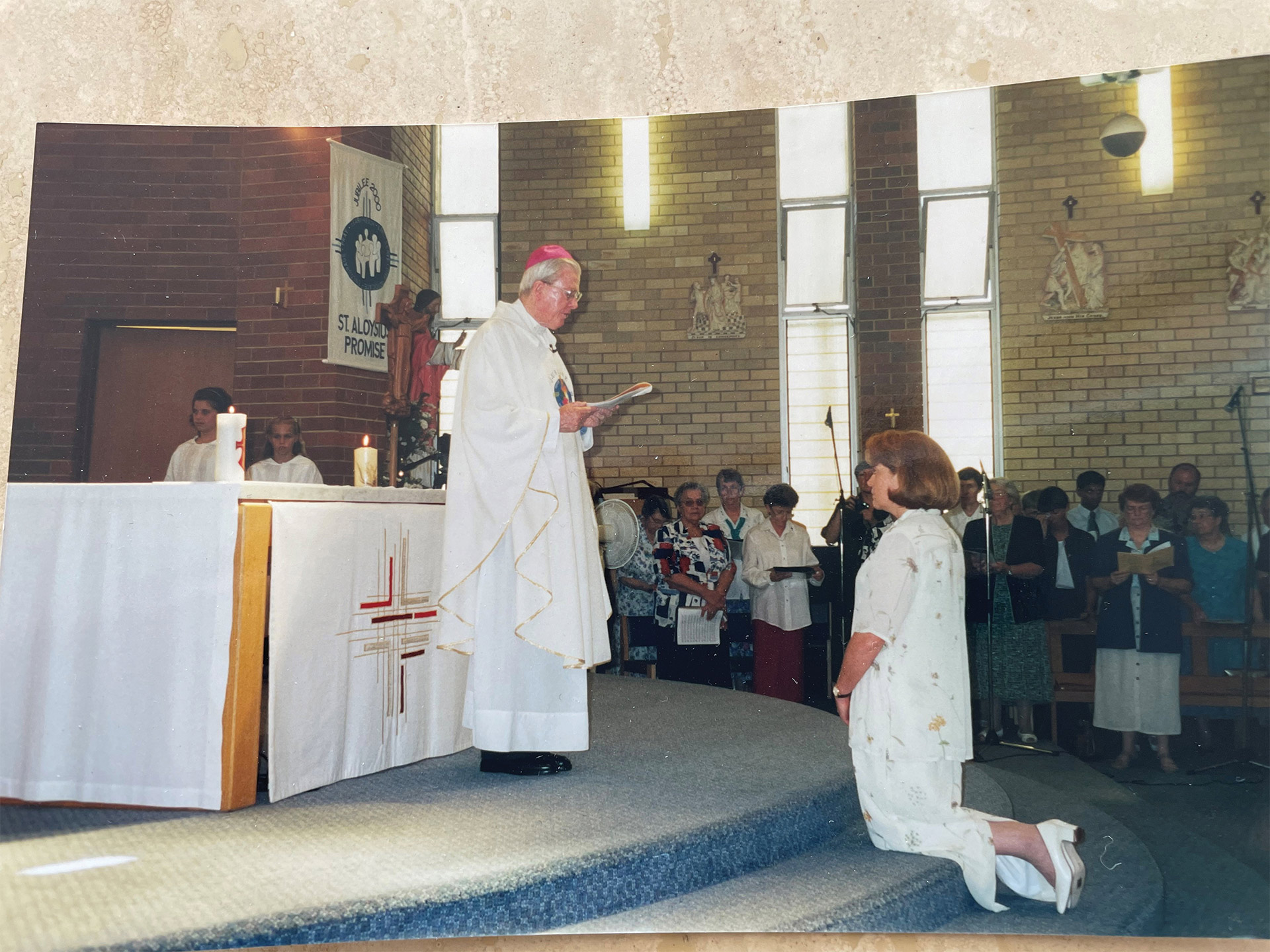 Now that Rosemary lives close by, Rebecca's transition feels complete. She discovered a passion for golf after joining the Concord Golf Club and enjoys the local catholic church [Saint Patricks Mortlake]  led by Father Tom [Stevens], who she notes is a great bloke. "I still classify myself as a Catholic, but with  a small c. 'Spirituality' is so loaded and there are lots of things about the church I'd challenge but I still think it has something to offer. Rosemary and I are very different ages and backgrounds, but we share that sense of hope that there's a reality we just can't touch or see, but we can glimpse it through art or nature or music, and kind people."
To that point, Rosemary lights up in agreement. "Art takes you to a place where you're not – to a place which is bigger than you are," she surmises. "Good art has to be able to raise critical questions and take you somewhere you've never been before. It challenges you there. That's how it works." Much like a decades-long deep friendship, one might suggest.
Rebecca McCabe practices at Bethany Centre in Strathfield. Email info@rebeccamccabe.com.au