After a decade running events and conferences on the world's most famous party island, Domenico Ruggeri opted for something closer to home for his newest hospitality venture.
Born in Sydney to Sicilian parents, Domenico 'Dom' Ruggeri has two fervent passions: electronic music and celebrating his proud Italian-Australian family heritage. It's the later that's inspired Dom Panino Paninoteca, his bespoke sandwich shop in Breakfast Point that specialises in artisan paninis, home-made pastas, salads, coffee, and locally sourced fresh produce. What even the most regular customers might not know is that his back story is as unique as his fare. We spoke to the Canada Bay resident about nightclubs, The Sopranos, his Nonna's very special family recipes and more.
Can you tell us about your background?
"I was born in Sydney but my parents are from Sicily, Italy and we grew up in the Inner West."
You lived in Ibiza – the world's most famous party island in the Balearics off Spain – for a long time while working in the club music scene. Tell us about that experience and what brought you back to Sydney?
"When I turned 18, I worked as an event manager and promoter for some of Sydney's [then] biggest nightclubs, including Dragonfly, Trademark and  Goodbar. Then in 2007, I went on an overseas trip with my brother and we visited Ibiza, which was like the holy grail of the electronic music scene to me. While I was there, I was lucky to meet Australian electronic DJ, Sarah Main, who used to open for [Grammy Award-winning producer and DJ] David Guetta, and that paved the way to me staying and working the whole season. I came home to Australia at the end of the summer but soon realised I'd left my heart behind and decided to relocate to Ibiza permanently. I ended up living there for 10 years working at some incredible, world-famous clubs like Pacha. Later, I became the general manager of the International Music Summit working with [British DJ and producer] Pete Tong. I was lucky enough to host international stars such as [American producer] Quincy Jones, [musician] Nile Rodgers and [the father of disco] composer Giorgio Moroder, to name a few. But I eventually missed my family so much, I decided to move back home."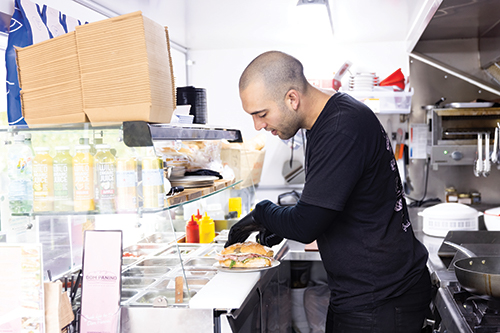 Are you still involved in the music scene here  in Australia?
"Until Covid hit last year, I was. Then after things changed, it gave me time to start working on the Dom Panino concept. I've always had a passion for food, so having something of my own seemed like the natural progression for me."
What inspired the concept for your very unique paninoteca?
"I have a burning passion to make people happy. While in the music scene, I was producing great parties and making people happy through music. Now I get to show people happiness through food.
I really owe the inspiration to open Dom Panino to my family. Growing up Italian in Australia, I've always been around amazing food cooked predominantly by my nonna, Maria, and my mother, Serafina.
We now often cook together and I really love that I keep learning from them. A lot of the recipes at Dom Panino have been inspired by my late nonna, Carmela, Nonna Maria and my mum."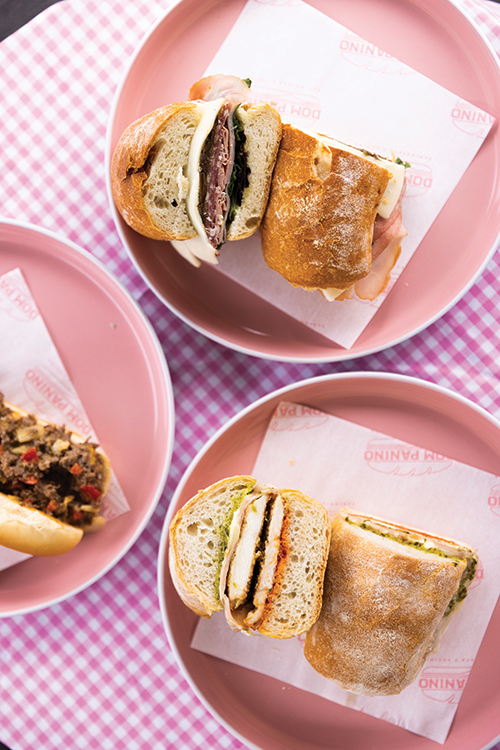 Where do you source your produce from?
"We work with some of the best producers in the country, including Parisi Sydney, which also provides fresh ingredients to the likes of [hospitality outlets] Merivale and Bennelong. We also work with two local high quality providors in Marrickville, which provide us with the finest small goods. However, we are most proud of the condiments we make in-house at Dom Panino using the traditional Italian pickling method of sott'olio, which keeps our panini unique and authentic. Stay tuned on how you can get your hands on some of these specialities soon."
We love all of the references to The Sopranos on your website. What is your favourite mafioso film?
"I grew up with The Sopranos [1999–2007] and every episode was like a movie to me. I would have to say my favourite movie is Goodfellas [1990]."
What is the most popular item on your menu?
"Our signature is the Nonna's Nostalgia panino, which includes a pork and veal bolognese that was slow cooked for five hours to make a thick, rich sauce. We then add smoked Fior di Latte [soft cheese], Parmigiano-Reggiano [hard cheese] and rocket. I love the story behind this panino.
We used to visit my Nonna Maria every Sunday when I was growing up and she'd always have a bolognese on the stove. I used to be cheeky, steal some bread and dip it in the bolognese before it was served for Sunday family lunch. The Nonna's Nostalgia is the taste of my childhood in a panino."
Is there anything new on the horizon you can share with us today?
"It's truffle season at the moment so we've added fresh Australian truffle specials to our menu.
In fact, you can add fresh Aussie truffle to any of the panino for a limited time. For winter, we've added a soup of the week served with our famous artisan bread to the menu. Soon we will also launch our house-made condiments and sauces so everyone can take a little Dom Panino home."