One was a family lawyer, the other two are high school English teachers, but what sisters Daniela Hall, Brunella Pagano and Oriana Hayes have always had in common is the fact they're inseparable. So, when one moved to Breakfast Point for a lifestyle change, the other two (and their husbands) followed within weeks. Here, their collective story about the power of family connection
My sisters and I were born in Sydney but Dad came out from Milan in the early 1950s to work as an engineer on the Snowy Mountain Scheme and mum was from a seaside town just under Venice. Both were incredibly well read and passed on their love of literature, especially to my older sister Oriana, who's gifted with languages and can quote anything from [14th century poet] Dante Alighieri to Shakespeare. Brunella is eight years younger than me and just a ray of sunshine. I'm probably the straight woman of us – the one that tells people what not to do.
Growing up, discussions at home were always passionate and opinionated. Often someone would take an opposite view just to play devil's advocate. Dad was usually calm and quiet, but mum was high energy and had an opinion on everything, right down to how much toilet paper you used. Italians, particularly from the north, like to talk about gritty subjects like politics and social history. We are not backwards in telling each other what we really think, whether it be about clothing or life choices.
That said, we're so close, and my sisters have guided me through some really hard times – from juggling school drop-offs with work, to supporting me through divorce, and the [almost fatal] cerebral aneurysm
I suffered in 2012. For years I'd suffered migraines without knowing I had a congenital thinning of a major arterial route in my brain. Then one day it burst, which felt like a lightning bolt – a very painful one. I came to and crawled to my phone to call an ambulance. The first thing I saw when I woke up in hospital was my lovely brother-in-law Con crying as he took the nail polish off my toenails before I went into surgery.
My sisters and I have always lived in the same suburb, but a few years ago, my [second] husband and I decided we wanted to downsize from our big home in the Hills District. Initially, we looked at terrace houses in Annandale and Glebe because we wanted a village type lifestyle, but my nephew, who works in Breakfast Point, suggested we drive around here one weekend. We immediately fell in love. It ticked every box for us – green space, near the water, a social atmosphere, and accessibility to the city. Every day here feels like a holiday. Brunella and her husband moved soon after – first renting in the area to wait for the right place to buy – and then after a few weeks of saying no, Oriana and her husband decided to move as well. We're really lucky our husbands all genuinely like each other.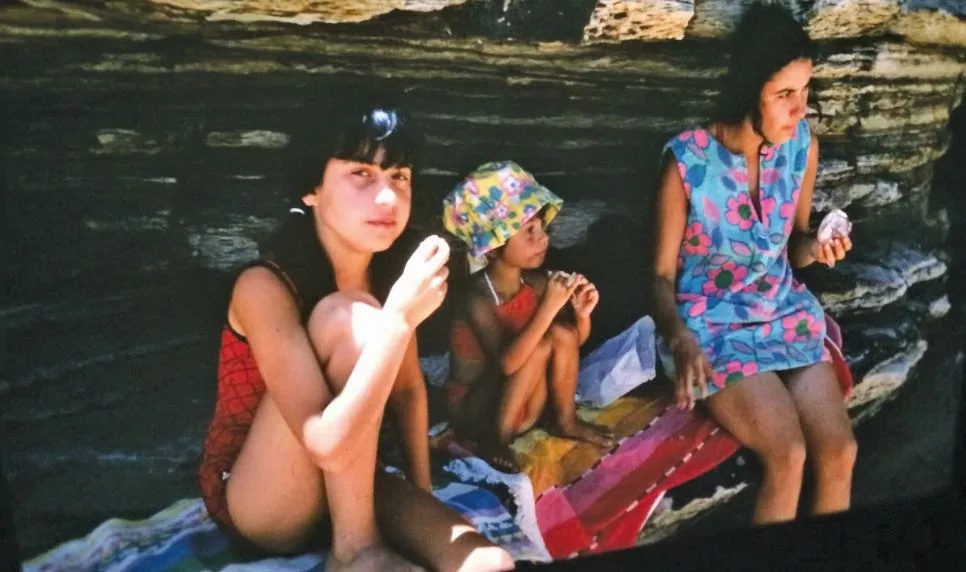 English and languages teacher
What I clearly remember from my childhood is that as the first born, I copped all of the scrutiny. Daniela got a bit of it, then by the time Brunella came along 11 years after me, she got away with blue murder. I taught her at high school and it's funny how she recalls things differently to me. It was the 1980s and I was in my first job, and she later told me, 'You'd walk [into the classroom] wearing whatever was in fashion, and one time you turned up in a lilac jacket with cowboy fringes and all these kids turned at looked at me. I was like, hey, it's not my fault!'.
I was Brunella's mother in a way. Mum had her when she was 43, and by the time Bru was at primary school, Mum was going off to English language classes, then to afternoon teas with all the Aussie ladies on the pretext she had to practise her English, which she actually knew quite well. You know how there are mothers that when you fall over as a child, they will say, 'Oh you poor thing, are you ok?'.
Our mother, when you fell over, would give you a wog slap on the back of the head and say, 'Watch where you're going'! Yes, we got tough love.
My father, who we loved dearly, had a couple of strokes then passed away after a long time in care, but mum's still kicking along at 95 and ruling the roost. We'll walk into her nursing home to visit and she'll say off-handedly, 'Oh, I like your outfit but I think you've put on a bit of weight'.
My sisters would probably say I'm the bossy one, but I think Daniela's the one who's more the big sister. They'd also probably say I'm a very emotive person, and have deep feelings and deep love for people, but that I can be a little bit of a know-it-all. I reckon I probably come across like that. What we do have in common is the fact we're all so glad we moved to Breakfast Point. My husband Greg and I spoke about going to other places like Tasmania or Orange, but because I have a few health issues, I need to be in a city with big hospitals like St Vincent's. I find Breakfast Point ordered and peaceful – aesthetically and therapeutically. There's a lovely sense of calm. We pat ourselves on the back that we said goodbye to the big house and moved here for lifestyle.
I've never been happier.
I think because I'm eight and 11 years younger than my sisters, they used to see me as more of a little daughter, particularly my older sister, but as we grew and I got married, they became my best friends. We do everything together – shop together for groceries, share recipes, they even used to look after my husband and feed him when I was away overseas. [Brunella worked as an international flight attendant before teaching]. We're all very close – and it's funny that each of us only has one child.
I can't live without my sisters, really. Whenever one of us does something, we turn to the other and say, 'Ok, let's follow suit'. I teach English and so does Oriana, my oldest sister, which makes us even closer. Oriana is very glamorous, very social, and very intelligent – she can recall things off the top of her head and rattle off Keats and Coleridge poems. I've always really looked up to her. Daniela is very pragmatic – a nod to her career as a lawyer, but she's also got a really relaxed side. She's also brave. She's the one that moved to Breakfast Point first, even though my son Nicholas had been raving to me about it. When our children were younger, they needed the big houses with the pool and the yard – the iconic Aussie dream – but when we made the move to Breakfast Point, we realised downsizing meant gaining a brand new lifestyle that suits us perfectly. We love the community feel here. It's really uplifting and people are always so happy, so social, out and about in the cafes or at the country club. Everyone knows each other by face here and it's so different to where we grew up. My son still lives with us, but he just walks to work now, lucky boy.
We are at the age now where we know what's important in life and we're reminded of it when we look out over the water every beautiful morning.
That's something we like to do together – walk along the water, chat, and take the time to be reflective.
Mum always raised us to be hardworking, have our own jobs and be independent, but to be very close
to one another, and that's how we've been all our lives.People are shocked when I say I practically live next door to my sisters, but I don't see any negatives. We lived next door to each other in Kellyville prior to this and within short driving distance to each other when we were all in Castle Hill, and we had three holiday houses up the coast in a triplex, so we've always been very near to one another. Still, I think Breakfast Point is it. I don't see any of us is moving again now.
I just wonder why we didn't do it sooner.