One of them may look familiar to Breakfast Point locals. The other is a household name for his international golfing success. Together, Ryan Parry and his former three-times Australian Masters winning dad Craig Parry are a formidable team. Here, the pair reveals what they've best learned from each another and how Concord has been the backdrop for some of their favourite father-son moments
When I was younger a lot of my mates knew who Dad was publicly but I was probably around nine or 10 years old when the penny dropped for me.
I remember one time he won an overseas tournament and I got to stay home from school and watch on television. Times like that made me realise I got to experience things other kids didn't.
If I had to pinpoint the hardest thing about Dad's career, it was probably that he was away from us a lot, but at the time, we didn't know anything different. It would have been much harder for Mum, who did an amazing job juggling three kids, our schooling, and weekend sports. His travel made the time we spent together even more valuable. He'd usually do three or four trips to the States per year, and try to play his allocated tournaments over six to eight weeks, then come home and really be super available for us in between. My brother and I would always bug him to take us out on the jet ski – back when you could take them out on the Parramatta River – or up to the golf course.
Sometimes we got to travel with him, too. At least twice a year when I was in primary school, we'd head over to the States with him for about six weeks. My teachers would give me an allocation of work to do while I was away and I'd always try to get through as much of it as possible on the plane, so by the time we got to Orlando, Florida, where we had another home, I'd be free and ready to go to the theme parks and play golf.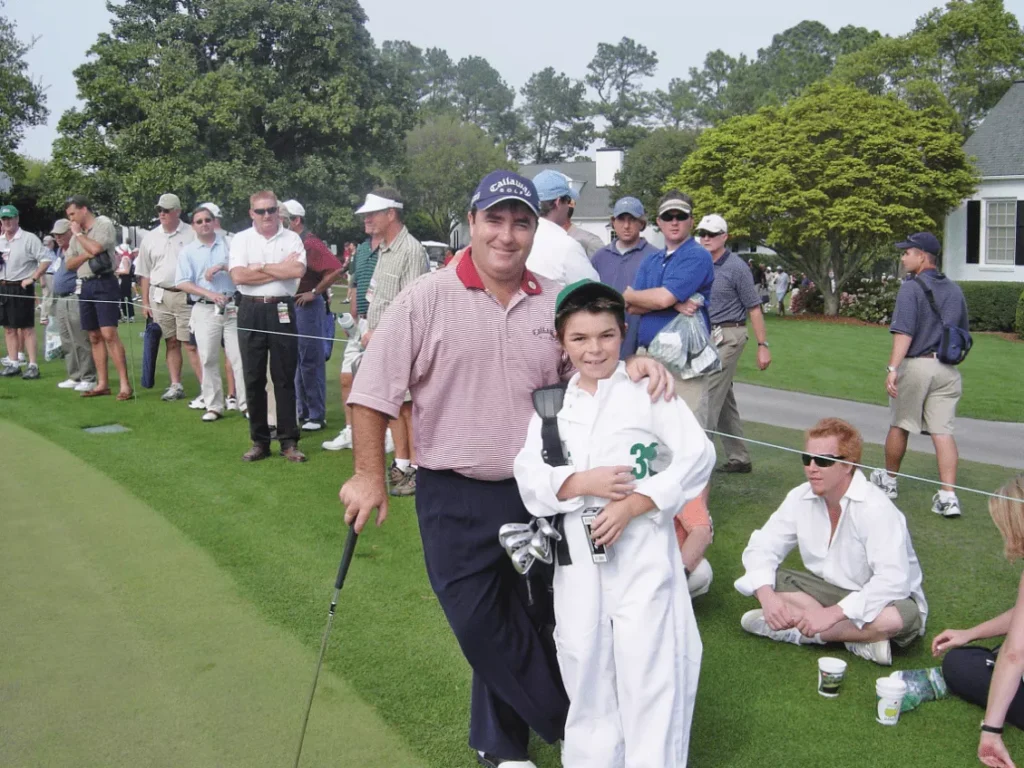 He'll say he's not a good teacher but Dad has coached me from the time I first picked up a club. To this day, I'll send him videos of my swing and he'll give me tips. I think one of the things that I really love about golf aside from Dad doing it is the accountability. You can never blame anyone else for your performance because everything rests on your shoulders.
Have I ever beaten him at golf? Yeah, a few times. I remember back when I was 17 and playing some of my best golf, we went out and played nine holes at Concord one Friday afternoon. I had five birdies, meaning I was five under for the nine holes, and he had three birdies. Unfortunately, it was a brief purple patch, but I've cleaned him up a few more times. Still, I wouldn't want to look at the win/loss ratio between us. It would be heavily one-sided in his direction.
I remember a conversation Dad and I had on our boat when I was 14 or 15 and really serious about both golf and soccer. I was getting to the point where, if I wanted a career in either, I had to pick one. Dad's advice was to stay true to myself, and because it would have been too hard to walk away from one, I picked neither. I still play both regularly for fun now though. I have a business degree and work for [technology company] Cisco in technology sales. I feel like I'm a people person, good at interacting with and communicating with people, so a sales trajectory and career path was well suited.
I've been a member of the Concord Golf Club since 2009 and still play there twice a week. We lived in Abbotsford for 18 years and we spent many a day at the club when I was growing up. It was Dad's home course, so he'd practice and play there when he had time off or was preparing for a tournament. He and Mum sold and moved to Newport on the northern beaches in 2019 but we still play there together occasionally.
Last September, I bought and moved into Breakfast Point. I love the community feeling here – it really reminds me of the home we had when I was very young in Orlando, which was in a gated community, with similar beautiful green surrounds. That and the proximity we have to everything here – the ferry, the city, the cafés and restaurants, the golf club up around the corner – means there's always a lot to do and we have a great lifestyle here. It suits me.
That's one of the things I learned from Dad: how to know what I want and be true to myself. He walked the walk when it came to giving that advice. He was always authentic and real and relatable and I think that's what was so appealing about him to the Australian audience who followed him and golf.
From the minute he picked up a club as a toddler, I knew Ryan would be very good at sport. It didn't matter what it was, his hand-eye coordination was always fantastic. He was a quiet baby and just took a lot in, but his soccer kick was something else. 
He showed signs of being interested in golf very early on. When we lived in America while the kids were young, I'd take Ryan and his sister [Ryan has two siblings, an older sister April and younger brother Brendan] with me when I went to practice on the range. I'll never forget the time April was learning to ride a bike at the range and ran over Tiger Woods who was hitting balls right next to us. She was probably only three years of age and Ryan not yet two.
He loved golf but soccer was always his first passion as a kid. If I told him back then he could be either a professional soccer player or a golfer, he would have picked soccer. He followed Manchester United, even though I'm good mates with [South Africa-born Australian former professional footballer] Craig Johnston who played for Liverpool. [During Johnston's time there, Liverpool won the European Cup, the FA Cup and five league titles.] They'd always rub the results in to each other, depending on who was winning.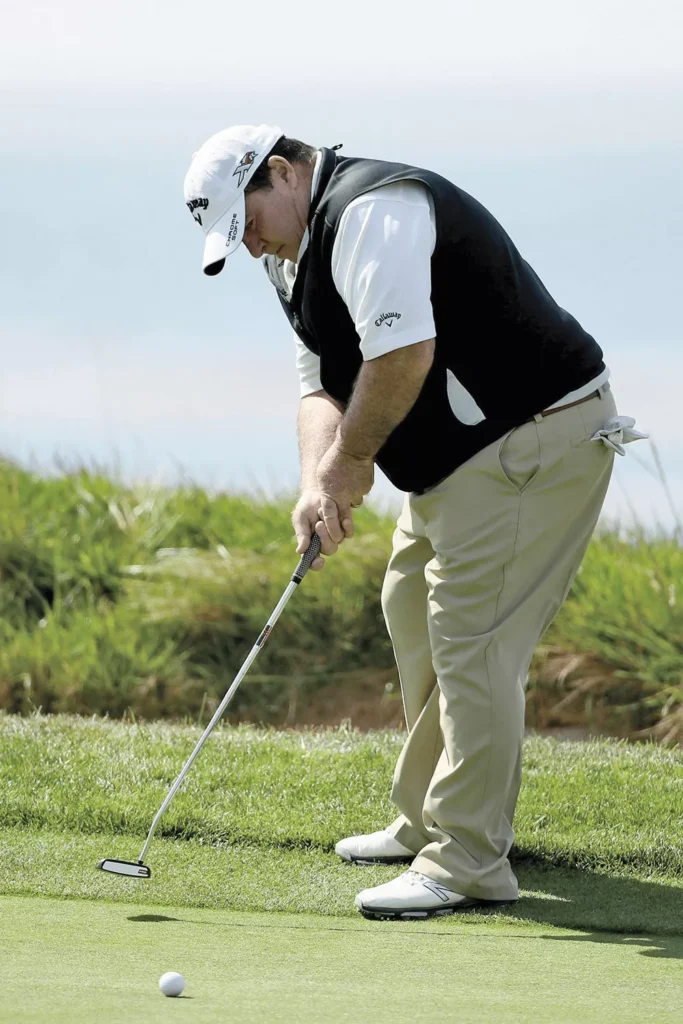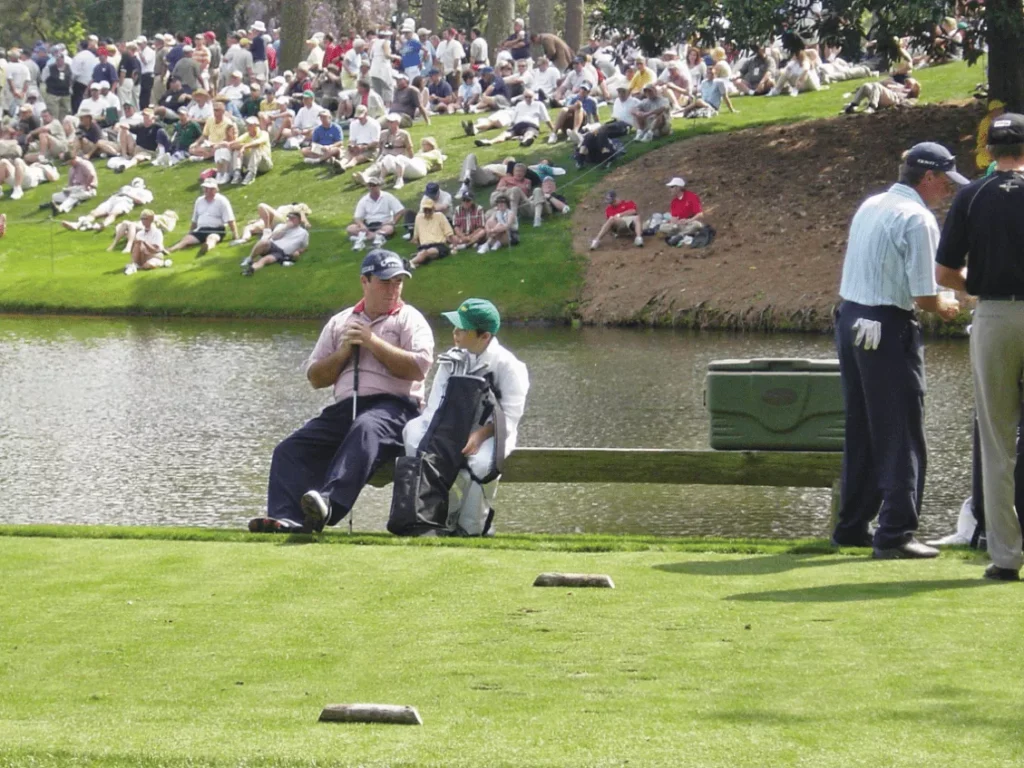 Ryan was a fantastic, really smart kid and I never had a problem with having to discipline him because we had a very good relationship. We used to go and play nine holes of golf after school nearly every school day. Even through wintertime, if we got four or five holes in, at least we were out on the course together. I gave him some lessons along the way, and he's a good pupil with a very good short game, but I don't profess to be a golf coach at all. I just know what other good players have done with their traits, and how to swing a club.
The hardest thing about being on the PGA tour was being away from my family, without question. For a long time, I practically lived on airplanes. When I finished my career, we worked out I'd done 150 trips between Sydney and Los Angeles alone. I'd fly into LAX with no baggage, then go across to Orlando where our other house was and pick up my bags. The customs people were always a bit weird: 'Hang on, you're here for
a month and you've got nothing?'
Nowadays we're all connected with the internet but it was totally different when you were overseas back then. We were away when Bob Hawke was voted out as Prime Minister but only heard about it once we got back to Australia. The Canada Bay area was very different back then, too. We lived on Davidson Avenue in Concord when Breakfast Point was still the gasworks, and I remember driving around for a look when the building there first started. Ryan's very comfortable in Breakfast Point. He's got a lot of friends in the area, and the golf club, so it's the spot he wants to settle down, and good luck to him.
My wife Jenny and I feel very lucky at the way all our kids have turned out. Hopefully they know I'm always here if they ever need me. Certainly, when Ryan and I do spend time together, it's quality time. I hope he would say that I've been just what he needed
over the years, too.